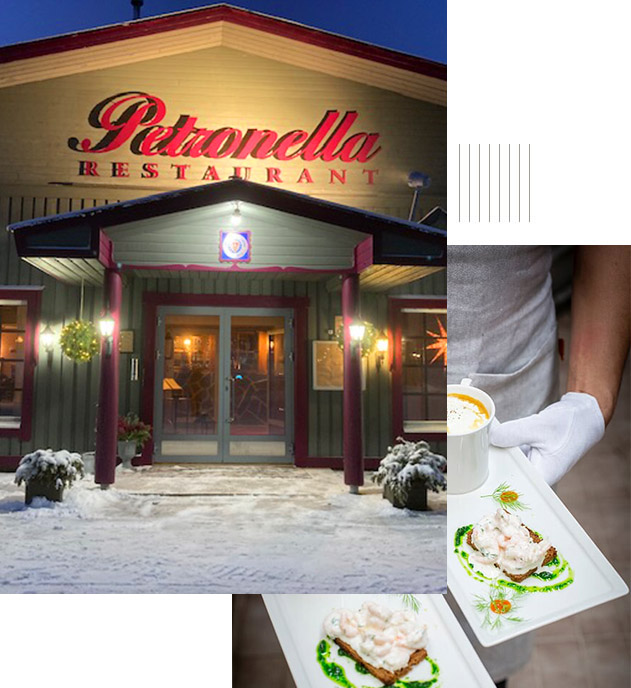 Quality food with a touch of magic in Saariselkä.
Restaurant Petronella has been cherishing the legacy of Petronella, the beautiful and mysterious adventurer, at Saariselkä since 1989.
The founder of Petronella, Saara Mehtäjärvi, was determined to create a high-class restaurant offering quality food and a relaxed atmosphere, added with a touch of magic with which the golden-haired beauty had charmed the whole of Lapland half a century ago. Some memories last forever. Welcome!
1. Okta
Finnish blini
Buckwheat Blini, Whitefish Roe,Sour Cream and Red Onion
***
Snow Grouse and Goose textures
Snow Grouse breast, Goose textures, Goat cheese Risotto,
Beetroot, Cranberry gel, Dark Game sauce
***
"The berries of Lapland"
Raspberry Chocolate ganache,Blueberry and Cranberry Parfait,
Lingonberry sponge cake,Cloudberries
2. Guokte
Lappish Porcini Mushrooms
Lappish Porcini Mushrooms, Gratinated with Garlic Butter
***
Crispy skin Trout
Crispy skin Trout from Inari Lake, Carrot purée, Light Shellfish Ginger cream, Roe
***
Baked Lappish cheese 
Tonka bean flavoured Lappish cheese baked in Puff pastry, Cloudberries, Coffee Créme,
Sylvia Petronella van der Moer, a Dutch journalist and adventurer, imprinted her name in the memories of the gold prospectors in Lapland. In 1949 she heard of gold and prospecting in Lapland for the first time when travelling by bus from Rovaniemi to Ivalo.